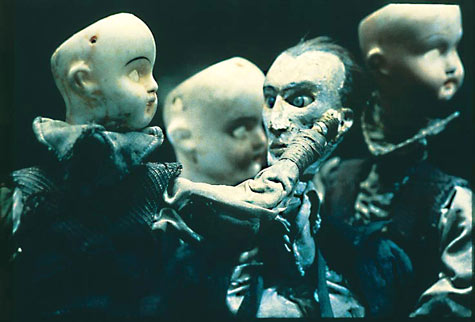 Posted by Nick Curley
Unlike your nightly news, we're follow-uppers: we follow up.  Here now, the double whammy in a one-two punch of a story we first brought you this past Friday.  Over at The Huffington Theorum, Park Slope resident and café recliner occupant Jonathan Safran Foer details the process of literally carving Bruno Schultz's short story collection The Street of Crocodiles into a new novel, Tree of Codes.  Schultz enthusiasts may recall that when Penguin reprinted Crocodiles for their Classics series in 2008, it was Foer who wrote the foreword (more like Foerword, am I right people?).  Those interested in Schultz would do well to watch the awesome stop-motion adaptation of Crocodiles made by the Quay Brothers back in '86.
Perhaps the most intriguing passage of the Huff piece comes when Foer dubs novel writing "the quintessence of freedom".  As defined in Wikipedia, "The Quintessence" is "an album released by Quincy Jones and his orchestra… in 1961, his only album on the Impulse! Records jazz label."  More on this surprising rapport between the maestro behind Thriller and the flyweight behind Sammy Davis, Jr, Jr. as it develops.